Dental inlays and onlays help to protect teeth that have been damaged by decay or trauma and need some added strength.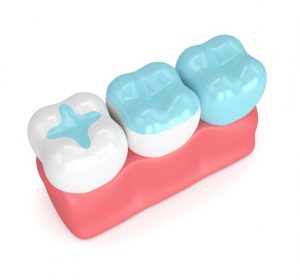 In simple terms, these restorative treatments can be thought of as a midway treatment between fillings and crowns – providing more coverage than a filling but less than a crown.
At Northway Dental Practice, our dentists can fit inlays or onlays built from composite resin or metal such as gold. Composite resin is tooth-coloured, so inlays and onlays fabricated from resin blend into the natural tooth and are barely visible.
How are inlays or onlays different?
Both types of restoration are traditionally used towards the back of the mouth. An inlay is cemented to the tooth within the four cusps or corners, whereas an onlay is fitted so that it overlaps the corners of the tooth.
Your dentist will advise which restoration is suitable for your needs following a thorough examination and dental x-rays.
We want to help you to look after your teeth and prevent decay, so please click here or call 0151 526 2701 to book your appointment now.