A dental implant is used to replace a missing tooth and is a natural-looking and functioning solution for lost teeth.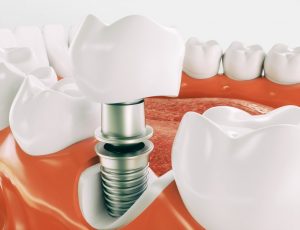 At Northway Dental Practice, we offer our Liverpool and Ormskirk area patients this advanced dental treatment which is permanent and hard-wearing. We can also plan ahead for an implant if you're having a tooth extraction. This helps to streamline the entire treatment and reduce your waiting time.
It is important to replace missing teeth so that you can eat and chew as normal, enjoy a restored facial shape, reduce the impact on surrounding teeth and ensure you have a full and natural smile.
What is a dental implant?
An implant is made up of three components. The first is a titanium screw which is placed into the jaw bone. This screw acts as a replacement root for your new tooth.
An abutment or post is then placed on top of the implanted screw and this holds the third component – the crown (prosthetic tooth) – in place. The crown is the only visible part of the implant.
Why is titanium used?
Extensive research has shown that titanium is a metal that bonds extremely well with bone. When embedded into the jaw bone, after a time, the titanium integrates into the mouths oral system and is also exceptionally strong.
What will my dental implant look like?
Your dental implant is created to look exactly like your natural teeth. It will be colour matched and shaped to resemble your remaining teeth and will be permanently fixed in place. Also, it will last a lifetime if cared for properly.
To book a dental implant consultation, please click here or call 0151 526 2701 now.