Invisalign vs Fixed Braces- Teeth Straightening in Maghull, Liverpool
30/09/2020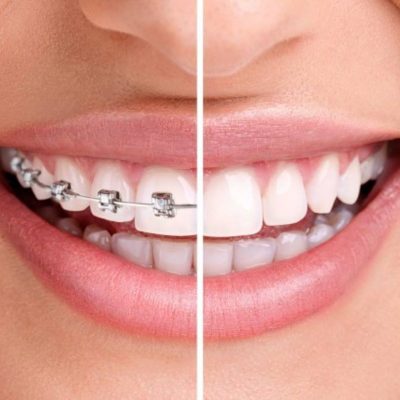 Thinking of getting teeth straightening in Maghull, Liverpool? Many of our patients report feeling self-conscious about their smile and finding it affects their everyday life.
It is important to remember a great smile is only one thing… CONFIDENT. Your smile doesn't have to be the whitest or the straightest, however if you find the appearance of your smile is affecting your confidence, there are many treatments available to help you feel happier with your teeth.
Wanting straighter teeth is one of our most reported concerns from our patients, with the most common treatments being teeth straightening systems such as traditional fixed braces or the more modern alternative, clear aligners such as Invisalign. Here we have summarised the main differences between fixed brace and Invisalign to help you decide which teeth straightening may be best for you.
NOTE: Not all systems are suitable for all cases. Your dental practitioner will assess your individual case and advise the best course of treatment.
Fixed braces are metal brackets that are glued to your teeth and tied together by wires and rubber bands. Invisalign clear aligners are trays made of smooth, comfortable clear plastic.
1. Eating
One of the primary complaints from brace wearers over the years has been the list of foods that can't be eaten! From popcorn and apples to chewing gum, having fixed braces makes it difficult to enjoy the full range of foods you may want to. Invisalign are easily removable each time you eat, meaning nothing is off the table! However, you do have to remove and replace your aligners every time you eat.
2. Cleaning
Having removable aligners makes it easier to brush the whole tooth surface and leaves less nooks and crannies for bacteria to hide in. However, whereas with fixed braces you only need to clean your teeth, with Invisalign you will also need to ensure you clean your aligners. You will also have to remember to clean your teeth after every meal to avoid discoloration.
3. Success
Fixed braces are irremovable, therefore you have to wear them consistently for your full treatment plan. Invisalign are removable, so if you are worried about forgetting to wear your aligners or think you will be tempted to leave them out fixed braces may be best for you! Failing to wear your Invisalign consistently can result in your treatment not working correctly.
For more complex cases, fixed braces will usually be recommended for the desired outcome.
4. Comfort
Most patients report Invisalign as being more comfortable. The smooth plastic is much more gentle on the mouth than metal and wires that can cause sores.
5. Appearance
Generally clear aligners are favoured by adults who prefer their discrete, 'invisible' nature. However, fixed brace brackets can now come in colours that match your tooth enamel or you may choose a brighter colour to make a statement!
6. Suitability
Fixed braces are not recommended for patients that regularly play contact sports, due to the risk of bangs to the mouth.
Invisalign clear aligners are not recommended for certain treatment plans, for example those that require rotation of canines or premolars, vertical movement, bite issues or bridge work.
7. Duration
Traditional fixed braces are usually fitted for around 2 years, whereas Invisalign are worn for 6-18 months depending on your treatment plan. It is important to note that with both it is likely you will need to wear a retainer afterwards to ensure your teeth stay in position.
Ultimately, clear aligners are favoured in adults due to their discrete appearance and comfort, however it is important to weigh up the maintenance of each teeth straightening system to decide what is best for you.
To find out more about our teeth straightening treatments or book a free consultation call 0151 526 2701, email info@northway-dental.co.uk or fill out our contact form at https://www.northway-dental.co.uk/contact/
To find out more about Invisalign visit: https://www.invisalign.co.uk/